Computerized Gait Analysis & Orthotic Therapy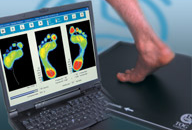 Orthotics are shoe inserts that are intended to correct an abnormal, or irregular, walking pattern. Orthotics are not truly or solely "arch supports," although some people use those words to describe them, and they perhaps can best be understood with those words in mind. They perform functions that make standing, walking, and running more comfortable and efficient, by altering slightly the angles at which the foot strikes a walking or running surface.

The treatment is used to analyze and determine specific foot problems that can also lead to ankle, knee, hip and low back pain. These individual, custom-fit inserts are worn in the shoes to correct structural and biomechanical problems arising in the feet.

Orthotics take various forms and are constructed of various materials. All are concerned with improving foot function and minimizing stress forces that could ultimately cause foot deformity and pain.

Foot orthotics fall into three broad categories: those that primarily attempt to change foot function, those that are primarily protective in nature, and those that combine functional control and protection.

Orthotics are generally covered by your Extended Healthcare Plan. Please call our office if you have any questions or to book your initial consultation/examination.

We offer a wide range of orthotics of variable lengths and styles. Orthopedic shoes (casual, dress, runner) and sandals are also available .